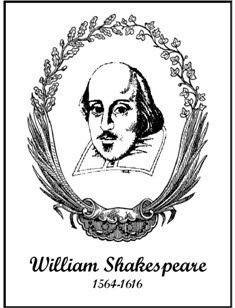 Oh, dear! I've had two more Shakespeare classes and have failed to post them here. My apologies to all those awaiting the new lesson plans but time is a valuable commodity. It's all I can do to get my classes ready for co-op and CCD and my own children versed in real life. I'm afraid I don't always do well in reproducing it online, but I do rely heavily on Internet ideas when it comes to planning the classes.
I'll have to look back over my notes to see what we have done but, in brief, my class is basically teaching me about Shakespeare! They are an enthusiastic bunch and it makes the job a breeze and a blessing to me. For my own children, my biggest focus is getting them familiar with the various comedies, tragedies, histories. We're working slowly because I'm having to track down the plays on DVD at our library. I believe in watching the plays more than reading them because that's the way Shakespeare intended them.
In the meantime, I found a wonderful Shakespearean site (HT: Jimmie) with coloring sheets, notebooking pages, lapbooks aids, timeline, free audio downloads (which we're listening to today), tips, facts, references...this site has it all.
Also today...go and view the Globe...virtually.